The 2017 games date came and went, and while it was a shame the games didn't happen, Scuttlebrook Wake went ahead as planned and did the town proud.
On the Friday, The Volunteer Inn presented Tommy & The Fuse (who would have been playing The Square) under the covers in the garden, while mother nature did her best to deter the crowd with lashings and lashings of the wet stuff. The Vol footed half the band's cost and raised a further £400 toward the 2018 Games fund – massive thank you to The Vol crew for that.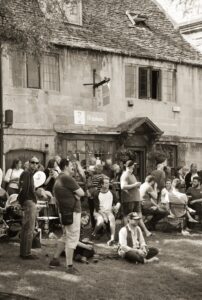 The floats were once again brilliant, and the town came out in full support of this great tradition. As well as co-funding the band on Friday, Toke's also provided Saturday street entertainment on the High Street, showcasing a funk-trio of incredibly talented musicians which was wonderfully received by revelers on the banks of the West side of the High Street.
A massive thank you and well done to everyone who made the weekend special – a notable shout out also to The Red Lion who donated their float prize money towards next year's games.
Since the revelry, I have spoken to lots of people in the town who have been eager to know how they can help, when the next meeting is and whether there is going to even be a games in 2018. There will be a meeting announced on here and on our social media pages very soon – everybody is welcome – and further announcements will be made in due course about the 2018 games. All I can say is that at the moment, there is a huge desire and a will to bring it back and with the support of the town we will be able to put it on AND guarantee the future of the games.
Bookmark this news page, or sign up to receive it as emails in your inbox, or follow us on Facebook, Twitter or Instagram.