I hope you're enjoying the summer so far. It's been all-go at Dover's HQ with ideas flowing in all directions, lots of meetings with people who have expressed an interest in helping, and various visits to the site of the games with various people to look at various bits and pieces. Incidentally, there is no Dover's HQ, it's a fictional place in my head at the moment full of medieval knights, a big wooden castle and other bizarre unconnected items.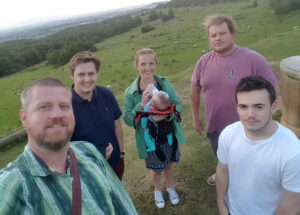 A few of us took a walk up to the site at the beginning of the week to get a feel for it without anybody there and to introduce some new helpers who had never really sat and pondered up there. We had a look at where things happen as they are now, and how they might happen in the future. Needless to say we also took in the view, mused on how lucky we are to have the hill to walk on, and then watched as some big rain ambled its way over Worcestershire towards us, overlaid onto a stunning sunset.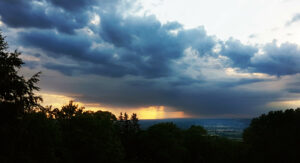 On Wednesday we talked lots about harnessing the power of social media to our benefit (we currently receive millions of hits on our YouTube videos hosted by third party outlets – 3.9m on Ladbible's Facebook page alone.) – how, why, and who do we know? We know that The Games regularly features as the "Look at those Crazy Brits" story on loads of major news channels around the world and apparently the shin kicking has even been shown on the state-run news channel in the DPRK. We're still thinking about how we can best show off the games online, it will no doubt be an ongoing thing.
On Thursday it was uplifting to see so many emails, messages and texts from many different places around the country from people I've never met and indeed, some of whom have never even been to Campden. In general they were from well-wishers who have been involved with other, similar style events and people offering advice and meetings. It restored my faith in humanity – not that it had been lost – but you know what I mean!
On Friday I met with Drs Martin Polley and Heather Dichter. They are both from de Montfort University and had offered their ears and ideas on the games. We had a great lunch (as usual) in The Eight Bells and tried to pin down some of the million ideas for the games. Afterwards we took a stroll to The Volunteer to meet outgoing Games Chairman and Historical Ambassador for The Games, Graham Greenall.
Graham had brought the Annalia Dubrensia with him which is the first time I've laid eyes on it (it was printed in London in 1636 and bought for the games for posterity and education). It was another great discussion and threw up a ton more possibilities, it was also educational for me as I learned about Campden's first Olympic medallist in 1908 (Sorry Matt!) and the alleged cheating during the tug o' war….. That's probably for a later story. Suffice to say it was exciting to meet people from outside the area who have such a knowledge and passion for our games and those like it from around the country. We look forward to working with them both in the future.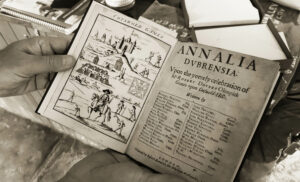 This week I'm off to talk about performing arts and watch some people who do something rather exciting, to me anyway – but I won't say anything on that yet, in case hopes are falsely raised! That will be it before the next meeting on 15th Aug at 19:30
See y'all soon.