Well, hello there Shinkickers. I trust your August is going swimmingly, despite the lacklustre weather.
There has been much activity within the Robert Dover's Games Society (RDGS) since my last post, culminating in our monthly meeting last Tuesday at The Lygon Arms. There is so much to discuss it's hard to know where begin, so we've started by taking an overview of the games and split everything up into manageable chunks. The catering team met last night and the treasury meeting is next week before the next full meeting in September.
We were lucky enough to be joined at the meeting by 15 enthusiastic people and there were a few apologies. This is great news as it means we now have a meaningful number of people to get stuff decided and acted upon. The meeting was very productive; following introductions to some new faces, we got on with the business of divvying up the work. Without going into too much detail, there will now be specific groups concerned with looking after the different aspects of the games.
You'll be able to contact them directly after the next meeting on 19th September:
info@olimpickgames.co.uk – for general enquiries from the public
media@olimpickgames.co.uk – media/video/photo/news enquiries
accounts@olimpickgames.co.uk – anything to do with money
catering@olimpickgames.co.uk – food & drink
ops@olimpickgames.co.uk – Planning, legals and operations.
fundraising@olimpickgames.co.uk – raising funds
admin@olimpickgames.co.uk – the one in charge of all the info
chairman@olimpickgames.co.uk – direct line to the chairman of the games.
At first glance it might seem excessive to have so many email addresses, but it is part of a wider effort to tidy up the administration side of the organising committee. By doing this we will now be able to keep a record of everything that goes into putting on the games which, we hope, will help to ensure their continuity and make it easier for new people to step into vacated roles. In addition to the new emails, we now have a shared, secure, online space in which to store every bit of information concerning the games. This will also be going live at the next meeting and will be accessible to committee members as and when they need it.
In Other Games News
We're lucky enough to have a young designer come forward who will be helping us to produce promotional material and get it out into surrounding towns and villages as the games approaches and also undertake an audit of the signs in and around the games and the town.
We've had at least one person offer to be a rider for us next year but are still looking for a second accomplished equestrian and a supplier of superb horses that are used to dealing with crowds of people. Plenty of time yet but it would be good to get this arranged as soon as possible so if that's you, or you know someone it might be… Get in touch.
Transparency & Positivity
It's my belief that it's easier to organise a community event such as this if you can engage everyone whom it might affect and this is why I try to write a blog post each month at least. One reason is the transparency it offers. If we don't tell people what's going on, they can't jump in and help. Equally, it's a major part of spreading the word about the games. The more people who are talking positively about it, the better the games will eventually become. Enthusiasm is infectious.
Fundraising
So, in the name of transparency, the headline figure that we are aiming for is a fundraising total, this year, of £10,000.00 to get the games up and running again. We have already managed to put £1,400.00 towards this, and there are a number of events planned throughout the year but obviously we will need the help of Campden to reach our total. So, if you're doing something crazy for charity and are short of a cause…. You know where to look. Because of this, we will be setting up a donations page too so we can all keep tabs on how it's getting on. It's also a great way that people can get involved in their own time, if it's difficult for them to commit to regular meetings etc.
To break that down into a manageable number, if every resident of Chipping Campden gave £3.75 in one year (about the price of a pint), we'd hit our target for fundraising!
We'll be putting together fundraising initiatives throughout the year so keep 'em peeled for how you can help.
Volunteers
We believe that by conservative estimates, we need 50 volunteers on the day of the games. We have to ensure that the site is safe for visitors and largely these voluntary roles will be guiding and directing visitors, taking money and generally being a happy face of the games. In recent years these numbers have dropped dramatically, but having talked to many people since the reformed committee started, I am very confident we can achieve these numbers, so keep your eyes peeled for the meetings we'll be holding and have a think about what you might be able to do.
That's about it for now, folks. I have lots of people to see again this month and we have a financial meeting, a catering meeting, some photoshoots, a radio slot and a visit to the hill to plan the next layout. As usual, you can contact the committee through Facebook, Twitter, Instagram, email or via the website, or me directly on the email below. Enjoy the rest of the summer holidays, we'll be back in a few weeks, conkers at the ready!
Cheers.
Heigh for Cotswold!
Tom.
Below are three pictures which were dug out for us by Martin Polley, Friend of the Games and Sports Historian Extraordinaire (not his official title). They're from 1951. Wonderfully, The lady in the left hand photo, Cynthia replied to our post on social media to let us know that she was crowned May Queen in 1950 and then she passed on the crown to her cousin, Rosemary, (pictured right) in 1951.
Throughout the year, hopefully we can unearth more of the history of the games and we'll bring you some more treats from the past. If anyone has any memorabilia, please get in touch as we'll be preparing an official archive as part of our medium and long term plans.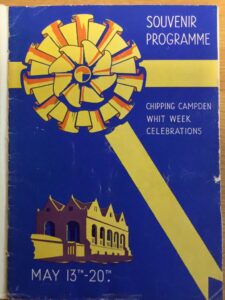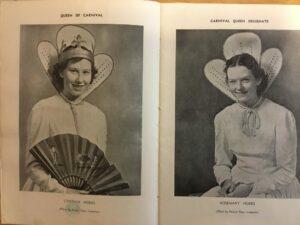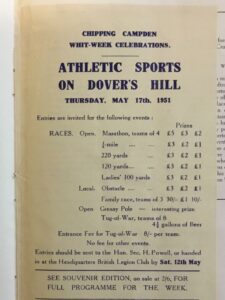 Note: A while ago, when the games had to be postponed this year, I put a post out about the games being cancelled because of health and safety concerns. If I was writing it today I would probably rephrase it as it was either misleading or was misconstrued. To set the record straight, it was nothing to do with anyone or any institution saying that the games themselves were in breach of any laws concerning health and safety. Rather, it was that there weren't enough resources to be able to guarantee the health and safety of those attending the games.