Hello everyone, I hope you're all well and enjoying the first signs of Autumn.
It's impossible not to feel a little nostalgic at this time of year, just because there's something so monumental about the shift in seasons and the changing of the clocks and, well, the skies and the colours are so dramatic they tend to remind us of places we've been, people we've not seen for a while and all that.
I was listening to back-to-back adverts on the radio today which I rarely do and there were two autumn-centric ones in a row, one which bemoaned the arrival of "gloomy" autumn, followed by one urging you take a drive in your Spanish car to see "one last sunset"  – which is it?  People seem to either love or hate the autumn, either for its inspiring reveal of colour, or the fact that it signals the end of summer.  Being a September baby, I'm firmly in the 'love-it' camp.
Adam Miller (left, World Champion) with Mika Pieri on Dover's Hill last month.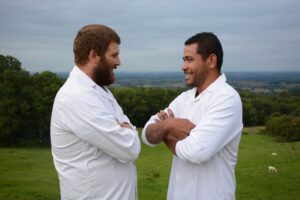 September Meeting
The Robert Dover's Games Society met this month on the top of the hill to have a look at the arena together and to discuss what to do with the site, while looking at it.  We just made it before the night came in and came away with some idea of where things need to be.  Having recently received all the responses to the survey we put out there, it was interesting to be able to take people's views on what goes on the hill and discuss them with everyone.
The fair is always one that always splits the room, almost 50/50.  Some love it and the rest think it's had its day.  Where do you go with that!?  Then there's the question of parking – can we find more?  What if it's wet?  What about the parade?  What about road closures?  Is there a better way?  It's a lot to think about but that's why we started this year's meetings a bit earlier than usual, to fit it all in.
Fundraising
Suffice to say that we have now gone through a lot of the things I wanted to when I became chairman, in order to put the games on an organised footing going forward.  There has been lots of activity this month including the fundraising sub-committee which was a jolly affair almost brimming with positivity.
We have now identified where we believe we can partner with the local community in terms of sponsorship/advertising/exposure and we have already had companies in touch with us expressing their support and desire to get involved.  We believe we've identified about £20,000 worth of sponsorship opportunities so if you or your company is interested, you can now contact Lorrelle at fundraising@olimpickgames.co.uk or me chairman@olimpickgames.co.uk to talk about it further.
Buy Bob A Beer
We will be launching the "Buy Bob a Beer" campaign soon which you will be able to see around the town.  The first posters and collection tins will hopefully be out in time for this Friday's fundraiser at The Volunteer Inn.  It's a pub-based collection campaign based on a simple sum that if each member of the town (2,288 people) were able to donate the equivalent of 1 beer (£3.65 average price in Glos) per year, then we'd have enough each year to cover the essentials of the games, i.e. the toilets, security, yellow jackets, skips, fences, etc etc – you get the idea.  So look out for the yellow posters and the yellow collection tins and give what you can, when you can.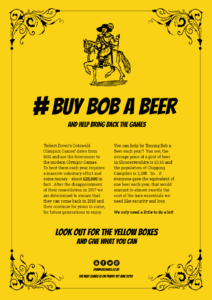 Events
For the Quizzers among you – and I know there are loads of ya – there will be a brilliant evening at The Eight Bells in the new year which will include food and a proper quiz.  Massive thanks to Neil & Julie Hargreaves who have offered this.  Watch this space for the date, it will be around that time when Christmas is a distant memory and your resolutions are beginning to crumble.
Don't forget there's also a fundraiser at The Volunteer Inn this Friday 6th with some great live music from Brixton Alley and specially reformed Zool.
History
One of our friends at De Montfort University, Prof. Martin Polley is giving a fascinating talk soon entitled Olimpick Games and Olympian Games – Lost & Found.  I'll be heading there and if you'd like to go, you can register for your free ticket here.
Costume
We are in the process of having some new costumes made, in period, to be worn at the time of the games, made by an extremely talented and generous person – I'll tell you more about that later in the year.
Volunteers
Volunteer Recruitment has been encouragingly steady.  I appreciate it's difficult to know what you can do to help when even we haven't even said how we need help but bear with us, we'll get there.  If you know you want to help and don't mind at what, you can put your name down at Toke's Food & Drink in the High Street, or visit them on Saturday 28th October where there will be food, drink, music and lots of chillies – hopefully a chilli eating competition too if we can find enough brave people!
Survey
Thanks to everyone who filled out the survey and also those who left your email.  It is now closed but the information provided was very helpful in making some decisions at committee meetings.
Contact the Games
As I touched on last month, we've broken the organisation of the games down into manageable chunks so you can now aim your question at the right people dealing with it (see my last post for the emails).  If you have trouble, please contact me directly on chairman@olimpickgames.co.uk
That's it for now folks, thanks for reading and let's talk again after the next committee meeting which is on Tuesday 17th October at The Lygon Arms. You're also most welcome to that, too.
Thanks for your Support!
Tom.