Well hello there strangers. I thought it was about time I got a grip and let you all know how it's going over here at Dover's Games HQ. It's been a busy few months as we try to pull together all the activities, performers, games etc. and then on top of that produce a handy 131 page, 18,000 word document containing all the risk assessments etc. I thought this was an exaggerated joke at the beginning of my tenure as chairman of the RDGS. It wasn't. The team has been getting to grips with that too. Hey ho, it's a necessary evil and benefits everyone, really.
Suffice to say there is still a lot to do but we really are making progress towards a great games. We have solved the horse situation and we are delighted to announce that Paul Dare will be playing Robert Dover this year alongside Gillian Carr as Endymion Porter. We look forward to seeing them leap about majestically on the hill, on June 1st!
I don't want to give everything away just yet, but there are a few exciting developments this year. We've already posted the food stalls on Facebook, but if you didn't see that, here is the list again: Abigail's Vintage Scoop (ice cream); Grouch Coffee (hot drinks); The Starchip Enterprise (premium fish & chips); La Bonne Crepe (crepes); Persian Kitchen (authentic eastern kebabs); The Camper Hamper (burritos & burgers); Trailer Trash (gourmet burgers); IN THE SQUARE: 2 x Pig Roasts, 1 x Barbecue from R.D. Walker.
We can confirm that the act in the square will be the popular band Get Carter who you may have seen play at The Volunteer Inn before. Either way, coupled to Clearsound's mighty rig and LED screens, we should be in for a treat on the night in the square.
We have been talking to lots of businesses and individuals over the last year and the result is that we've managed to generate a lot of good feeling and the enthusiasm is starting to bubble over now. It"s a great feeling and is reflected in the amount of money we've managed to raise. If all goes to plan over the coming weeks we should be just shy of £30,000, which covers everything the games needs to go ahead and leaves a bit to give us a head start next year. To everyone who has had a hand in getting us there, a massive thank you. We will be announcing our main sponsors very soon when we launch The 2018 Games and start sending out the posters and the flyers.
Fundraising events coming up include the Grand Prize Draw which has some fab prizes donated by local businesses and will drawn at some point over the weekend's festivities in June. Watch this space and social media for updates on where you can buy your tickets.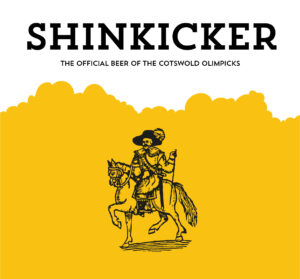 Watch out for our very own beer coming to Campden soon. A select bunch of our favourite watering holes will be selling Shinkicker Ale so you can drink in the knowledge that the more you consume the better the games will be! At least I think that's how it works…
The second annual Chilli Eating Contest is confirmed for October where you'll get to see Danny Walker defend his title of Chipping Campden Chilli Champion – we're hoping he doesn't get it so easy this year. 😉 The chillies are growing though, as we speak.
The ongoing call for volunteers is still there. We will always need people to help out on the night and the more the merrier. We will be holding another recruitment evening closer to the games so if you've thought about it but not yet done it, you can register on this site by heading over to the Volunteers Page and entering your details.
So that's it for now I think. The plans from the start of the year are all coming together, we've raised a lot of money and the volunteers are trickling in. I'll be in touch with a bang soon to tell you more about what to expect on the night. in the meantime enjoy the first hint of Spring which (please, please, please) is right around the corner.
Thanks for your continuing support.
Tom.