Dover's Games and Dover's Hill, where The Games are held, are both named after Robert Dover, but why?
Robert Dover
Robert Dover was a lawyer from Norfolk, born, we think, in 1582. In around 1611 Dover came to live locally in nearby Saintbury, then he moved to Chipping Campden and on to Childswickham. All of these homes were within site of the hill which would eventually bear his name.
About a year after his arrival to the area Dover became involved in a traditional Cotswold Whitsuntide festivity which he went on to revitalise it with his own distinctive form of entertainment. It became an annual event which Dover himself oversaw for over 40 years. I wonder if he had any idea that 406 years later we would still be emulating his vision? It's thought that Dover's new revived games received support from local mercer Baptist Hicks.
Baptist Hicks
Hicks' was once one of the richest in England, he knew how to make money but he also knew how to spend it, he commissioned the Woolmarket Hall, The Almshouses and the original Campden House. In fact Hicks was so well moneyed he bankrolled James 1st!
Endymion Porter
Endymion Porter lived a stones throw away in Aston Sub Edge. He was a diplomat and a royalist, he held the post of Groom of the Bedchamber to Charles I. After the inauguration on the games Endymion privided patronage to Dover. Endymion was well connected with courtiers he is said to have supplied his mate Dover with some fine and dandy royal cast-offs to wear while he presided over The Games. Snazzy.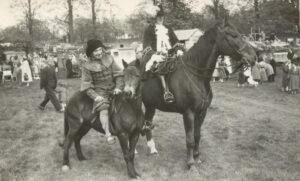 Reg Mansell and Charlie Ladbrook as Robert Dover and Endymion Porter
on horseback at Dovers Games image credit : Campden History Society