With one week to go until the rejuvenated games are set to go ahead on Dover's Hill, St James & St Catharine's primary schools in Chipping Campden were lucky enough to be the first people involved in the new educational programme which has started this year.
Professor Martin Polley visited the children for an hour at each school to talk about the history and the future of the Games. The children were particularly interested that gurning used to be a competition, delighted that candy floss might be making a return in coming games and tried their hand at the standing jump! I'm pretty sure there was a teacher or two who fancied their chances at Shinkicking…. We shall see who turns up on the night!
I met with Martin a year earlier when we were wondering how to resurrect the Games and out of the blue came a conversation about the games and some fascinating expertise about the place of the Cotswold Olimpicks in sporting history, not only in Britain but on a global scale.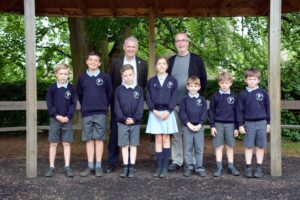 Later in 2017 I visited a lecture that Martin was giving in De Monfort University in which he gave a history and comparison between the various games which had happened all over Britain – ours having the oldest recorded beginnings, from 1612AD. Vice chairman William Bennett and I found the talk utterly fascinating and couldn't believe that we hadn't learned it from anywhere before.
From there, with the committee and in particular Patrick Spink, we have worked with Martin to lay the foundations this year, of an ongoing educational programme so that anybody who is lucky enough to go to school in Chipping Campden will leave with knowledge and an interest in this unique event which will hopefully stay with them for a lifetime, wherever they end up in the world!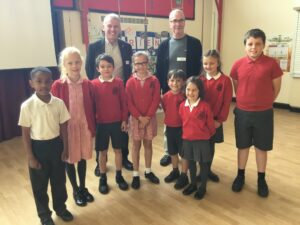 Next year we will look to do even more and expand it to include adult learning resources and talks. If you'd like to get involved in this side of our Olimpick project, you can contact Patrick on education@olimpickgames.co.uk
If you'd like to do some reading of your own on the subject, we can certainly recommend the following book by Martin which is a guaranteed fascinating read:
The British Olympics: Britain's Olympic Heritage 1612-2012 – Played in Britain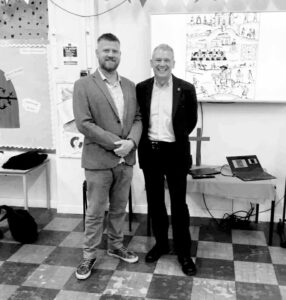 There is a plethora of educational material surrounding the games and a lot of it seems to spread far and wide. The Society owns a beautifully rebound copy of Annalia Dubrensia, printed in 1636 and written about Robert Dover and his games. There are works by the late Francis Burns who was also a great scholar of the Games, and there are programmes and photographs galore. Do you have some Dover's memorabilia hidden away? Get in touch with us if you'd like to share!
We hope to see you at the Games next week and of course the following day at Scuttlebrook Wake.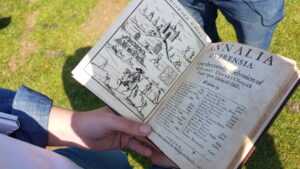 Heigh for Cotswold!
Tom.